Zakat: B Desh Foundation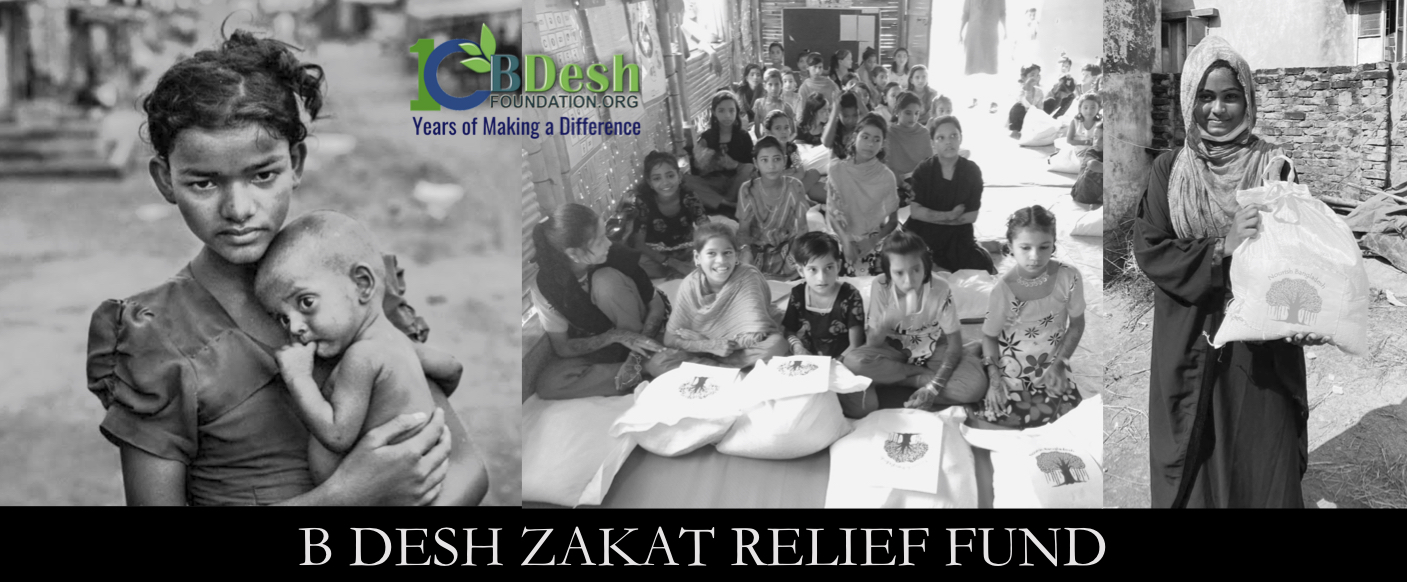 All donations made to Nourish Bangladesh by US residents are tax deductible since Nourish Bangladesh is an IRS approved 501(c)(3) organization. US donors may also donate to Nourish Bangladesh via Zelle at nourishbangladesh.us@gmail.com 
Who is B Desh Foundation? 
The B Desh Foundation is a Northern Virginia-based non-profit charitable organization whose mission is to serve humanity through natural disaster relief, poverty alleviation, health and sanitation, and educational projects. They have undertaken a variety of projects in Bangladesh since 2009, including: childcare centers for Rohingya refugees; funding mobile medical clinics; and Project Women Care, which provides women with primary health care, sanitary hygiene aid, and livelihood initiatives. B Desh Foundation maintains low overhead costs, while ensuring effective usage of funds through independent audits and surveys in order to validate project execution and expenses, as well as a Key Performance Indicator matrix for all projects. In response to Covid-19, they have prioritized food relief and hygiene kit programs.
Highlights
B Desh Foundation has long experience in this area, as they have worked on Zakat-based initiatives for over a decade. They have used Zakat funds towards a variety of different projects, including health care and children's welfare. Currently, they are involved in distributing Zakat relief among Rohingya refugees in the Cox's Bazar area, thus reaching one of the most vulnerable populations in the world today.
Responses to Vetting Questions 
These responses were provided to us by Mr. Sohel Ahmed, the Chief Executive Officer of B Desh Foundation, with regards to B Desh's Zakat eligible projects and their plans for using the Zakat funds donated by Nourish Bangladesh donors. We researched and asked the same set of standard questions to the other NGOs we vetted for Zakat as well. 
Questions: For how long will you be accepting Zakat funds? 
Response: We continue accepting Zakat funds round the year.
Questions: When will you stop accepting Zakat donations, or will it be ongoing into next year?
Response: Ongoing into the next year.
Questions: Can you share a little bit of history as to how long your organization has been accepting Zakat and what kind of projects you have run with it in the past?
Response: Over 10 years, Women Empowerment, Children Welfare, Eye Care and Health Care; Rohingya projects
Questions: What will the Zakat funds be used for? Please provide details on specific projects and price breakdowns. (For instance, if we provide $1000 USD, how will this money be used? What will be delivered to the beneficiaries and in what quantity? What will the associated overhead cost be?)
Response: First we check whether there is an earmark attached to the fund or not. For instance, if the donor intention is to spend Zakat for the Rohingya cause or non-Rohingya causes? If it is for the Rohingya with an earmark then we spend that money for the Rohingya projects like, Health Care, housing, Children Care, women care, Food relief etc. but if it is Rohingya Zakah and there is no earmark then we spend as a subsidiary fund, for instance if there is a short of fund for the health care then we use the Zakat fund to subsidize the rest of the health care fund. For non-Rohingya projects we also follow the same guidelines, if there is an earmark it goes to that specific project otherwise we spend the fund for Women empowerment, Children Welfare, Health/Eyecare projects. We try to spend all the Zakat money within the same fiscal year. Our overhead cost structure is the same as regular funds, roughly 4.5 percent (e.g. payroll, admin, etc.). Zakat has the higher spending priorities but we treat it as a grant and all our projects go through the same approval process. More information about current specific projects and associated costs are pending. 
Questions: Geographically speaking, where will the Zakat funds be used?
Response: Currently Zakat fund for Rohingya been spent in Cox's Bazar Rohingya camps; non Rohingya Zakat fund been spent in different areas of Bangladesh 
Questions: How soon will the Zakat funds be used once you receive it from us? For instance, if we deposit $1000 in your bank account on the 2nd of May, 2021, when can we expect it to reach the recipients?
Response: There is no specific Zakat project but we identify projects that are Zakat eligible. Most likely it will be allocated in one of the approved projects by BDesh Board and NGO and funds will be transferred to those projects to be used.
Questions: Who should we contact if we have any questions about your organization's Zakat projects?
Response: Please get in touch with me, Sohel Ahmed, at Sohel@bdeshfoundation.org with any questions you may have.