Volunteer Group Led By Muhtasim Abshad Zisan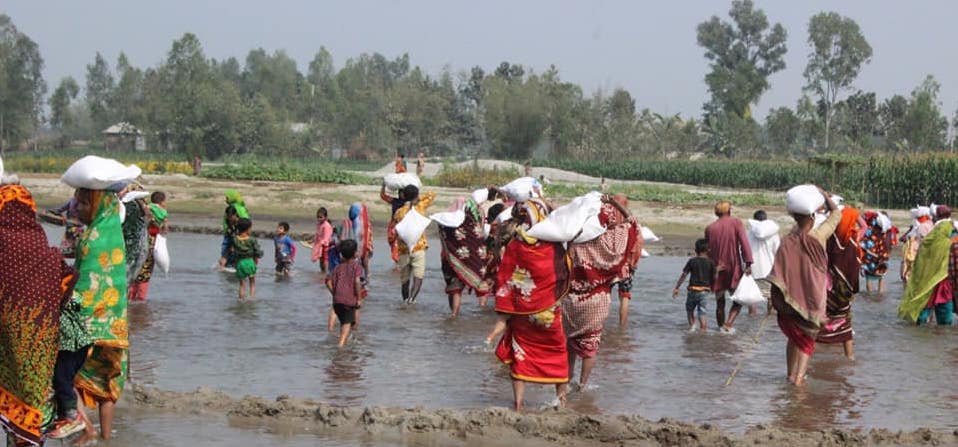 All donations made to Nourish Bangladesh by US residents are tax deductible since Nourish Bangladesh is an IRS approved 501(c)(3) organization.
Who is Muhtasim Abshad Zisan? 
Muhtasim Abshad Zisan is a first-year student of Environmental Science at Khulna University. He is an active grassroots volunteer, and founded an organization called Cholo Swapno Chui ("Let's Touch Dreams") with a team of some 55 volunteers who have undertaken a variety of initiatives responding to the Covid-19 pandemic since March this year. The group was recognized for their efforts recently with a 'Dhaka Youth Club International' Bravery Award. 
Highlights
Zisan's work allows us to distribute relief in one of the most remote and underprivileged areas of Bangladesh. His group has extensive local knowledge and previous experience, and they have worked on behalf of some of the most trusted and efficient NGOs in the country including Bidyanondo. Zisan and his volunteers' work as part of a Cholo Swapno Chui has been recognized by the national dailies. He will be personally involved in overseeing and distributing the food relief. To help ensure transparency, they will document the distribution with names and addresses of recipients.
Responses to Vetting Questions
These are the responses we were provided by Zisan who will be leading the volunteer group, with regard to their general activities and their plans for using the funds donated through our fundraising campaign. We researched and asked the same set of standard questions to the other volunteer groups we vetted as well.
Question: Does your volunteer group have a name? If so, what is it?
Response: No, we don't. I lead a larger volunteer organization called Cholo Swapno Chui ("Let's Touch Dreams"), but I will work with your funding as a separate project under Nourish Bangladesh's name.
Question: What is the size of your group? Can you tell us a bit about the organization or structure of your group (e.g. one organizer, three field workers, one treasurer, etc.)?
Response: We are a team of 15 volunteers led by myself (Zisan), all have experiences and are very active. I am assigning this many volunteers, because although only 7 or 8 may be on the field at a time, others are available on reserve in case someone gets sick, or someone is given a day off.
Question: With our donation, what do you expect the geographical spread of the relief recipient to be (e.g. Dhaka city, rural Mymensingh, etc.)?
Response: Flood-affected parts of North Bengal, specifically Rangpur, Pirgacha, Kaunia, Gongacora, Lalmonirhat, and Kurigram districts. 
Question: With our donation, which groups will be helped (e.g. LGBTQ community, Transgender community, street children, Garo indigenous population, sex workers, gypsy community)?
Response: Any destitute people, focusing especially on flood victims right now.
Question: What is your motivation to start or get involved in this volunteering work? Is your group's approach religiously neutral in term of the people you help and the volunteers you employ?
Response: The volunteers working with me are politically and religiously neutral and unbiased. I work with people of all religious backgrounds. 
Question: Can you give us a price breakdown of how much money is spent towards food relief (e.g. with 1000 taka we offer lentils, rice, onions, and potato for a family of 4 for two weeks) or how much cash is handed to each household (e.g. 1800 taka for each adult in a household)?
Response: We provide 2 weeks food package for 4 member family. A typical bag costs about 1005 BDT and contains: Rice 10 kg,  Potatoes 5 kg, Lentil 2 kg, Onion 2 kg, Flour 2 kg, Oil 1 litre, and Bags.
Question: We prefer our donations be used for cash transfers or food relief. Nonetheless, what type of other services, if any, other than food relief or cash transfer will be provided with our donations?
Response: We prefer to distribute food relief rather than cash transfer.
Question: Can you ensure our donation money is spent only on food relief or cash transfer? If not, can you provide a list of services our fund will be used for?
Response: Yes. 
Question: Are you able to customize your food relief or cash transfer efforts based on what we want the donation to be used for?
Response: Yes, we can customize the donations according to your preference.
 
Question: Do you have any mechanism to ensure transparency of exactly where our money is going?
Response: We will provide footage documenting our work, and try our best to collect as much data as possible on those who are receiving the aid. Many of the destitute we are helping will not even have stable homes, let alone national ID card numbers, for example. But those who do, we can keep a record of their details like name, address, etc. As for photos and video, usually we only show the hand-to-hand transfer of donations (This is to avoid taking photos of individuals' faces, as there is no need for it and often feels awkward). But when we take long shots, we do request their permission. 
Question: Can you give us an estimate of what percentage of our donation is used up in overhead cost i.e. if we donate 1000 Bangladeshi Taka, what fraction of that will go directly to the poor?
Response: Our overhead costs will be about 4% towards transportation, packaging and related expenses. 
Question: Can you give us a very brief history of your relevant past efforts that makes you uniquely suited to carry out relief efforts in the face of Covid-19?
Response: I am a grassroots local volunteer, and Cholo Swpno Chui  is my organization. Since the beginning of the Corona pandemic, we have worked tirelessly on distributing relief and raising public health awareness (such as the use of disinfectant sprays, wearing masks, public safety markings, etc). Focusing on the needs of women at this difficult time, we also distribute feminine hygiene products. We have also donated sewing machines to help women who can work to become self-sufficient. We also run a free medical campaign to help provide advanced treatments to poor people.
Question: Do you have any mechanism in place to ensure that you are aware of which households are getting help from the government, so as to avoid overlapping coverage with government efforts?
Response: Yes, we take steps to check and verify that before proceeding with our work. We do not simply show up in an area all of sudden and distribute relief and then leave. I will have 3 or 4 volunteers surveying locally, inquiring people in the area (such as shopkeepers) whether any kind of donations have reached them, how long it has been, and so on. Note, for instance, the case of Pirigacha: the place is such that, as far as I am aware, there was only one time that the zilla commissioner sponsored one meal of cooked khichuri. Beyond that, no other relief such as rice, lentils etc has reached them from the upazilla or other levels of government. But the people's need there is extremely highs.
Question: If you get sick or are unable to continue leading/volunteering in the group, how will your campaign continue?
Response: I will have a coordinator in my team, who can do the work with the group in my absence.
Question: Are you currently working with any NGOs (funded or contracted)? If so, who are they and briefly describe the nature of these funds/contracts.
Response: No, I am not.
Updated: 10/22/2020